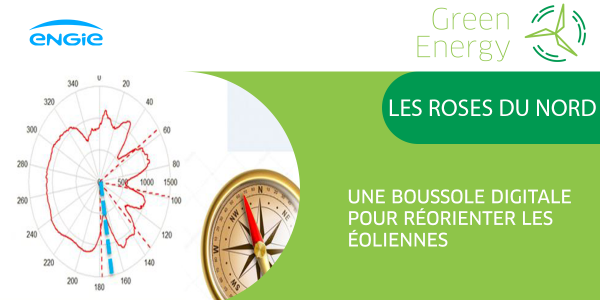 Green Energy
"Roses du Nord" A digital compass to redirect wind turbines
A digital compass to redirect wind turbines.
Wind turbines are losing their North reference! An app has thus been developed to help them retrieving it. A producing wind turbine is collecting energy from the wind. Therefore this energy is not available downstream for other wind turbines in the farm.
causing a production deficit that can be linked to respective alignment between turbines. By correcting the reference measurement it is possible to realign the turbines considering their wake. More than 400 wind turbines of the Engie Green fleet have beneficed from it, accounting for more than 800 MW.
The project team
Thomas DUC
Sophie GUIGNARD
Lorraine ROCQUIN
Arthur PETIT
Entities
ENGIE France Renouvelables