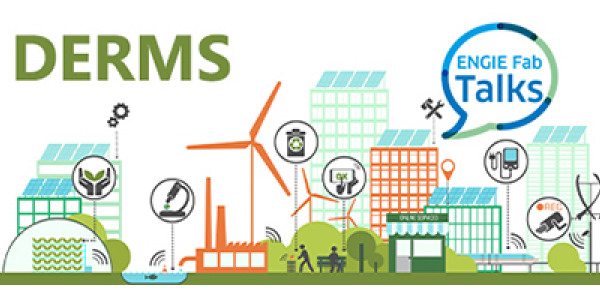 ENGIE Fab Talks on DERMS (Distributed Energy Resources Management Systems)
An internal conference to present to the group's employees the accelerating DERMS project at ENGIE Fab's New Business Factory
DERMS is ENGIE's "distributed energy resources as a service" solution. Through this initiative, ENGIE invests in and operates a Distributed Energy Resources portfolio to optimize behind the meter and in front of the meter assets using ENGIE's proprietary software solutions. 
In this program ENGIE New Business Factory combines ENGIE BUs capabiliti es (GEM for asset market optimization, GEN for asset O&M, and geographic BUs for customer relationship & BD) with startup partners (KIWI Power, ENGIE EPS, Connected Energy) to create a competitive edge for ENGIE in the Distributed Energy Ressource (DER) market.
Location : ENGIE T1 - Paris La Défense - 16:00 PM to 17:00 

Broadcasting :  on ZOOM


Joining the ZOOM Web-Meeting on Wednesday, June 12th , 2019 at 4:00 PM (Paris time).
From a PC : Click on the link : https://engie.zoom.us/webinar/register/WN_SaqtFwQyQJKE3uLjcv4LlA Enter your email address, firstname and lastname