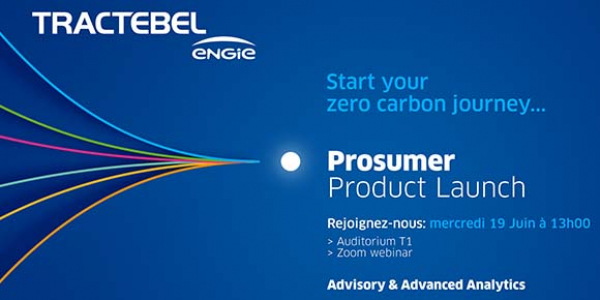 "Prosumer product launch" by TRACTEBEL ENGIE
Internal conference dedicated to PROSUMER, the tool to help B2T and B2B customers go Zero Carbon.
Tractebel ENGIE, with the support of ENGIE Research through the thematic laboratory EYES (Energy System Simulation), PROSUMER.

This tool allows you to define the best investment strategy for your multi-fluid systems and represents a lever of choice to move towards zero carbon, whether for a campus, an eco-district, industrial sites, ports, micro-networks etc.

PROSUMER determines the mix of optimum energy assets, their capacity and their way of exploiting :

Multiple energy fluids (electricity, heat, cold, hydrogen, etc.) by integrating mobility
A wide range of technological options in which to invest and their footprint (photovoltaic, batteries, intelligent load, heat networks, etc.)
Budget constraints in terms of investment and exploitation over the life of the project.
Beyond simplified best option analysis, the power of PROSUMER simulation lies in its optimization of all elements surrounding a decentralised energy concept with higher RES share, allowing users to rapidly arrive at a concise GO/NO GO investment decision.

Location : ENGIE Tower at Paris La Défense.

Horaire : 13h-14h