---
CES 2018- Supersola: Plug and Play Solar panels
13/12/2017
Julius Smith is founder and CEO of Supersola, a Dutch startup producing plug-and-play solar panels, that will be accompanying the incubator Yes!Delft to the ENGIE stand at CES 2018. He talked to us about the company and the product.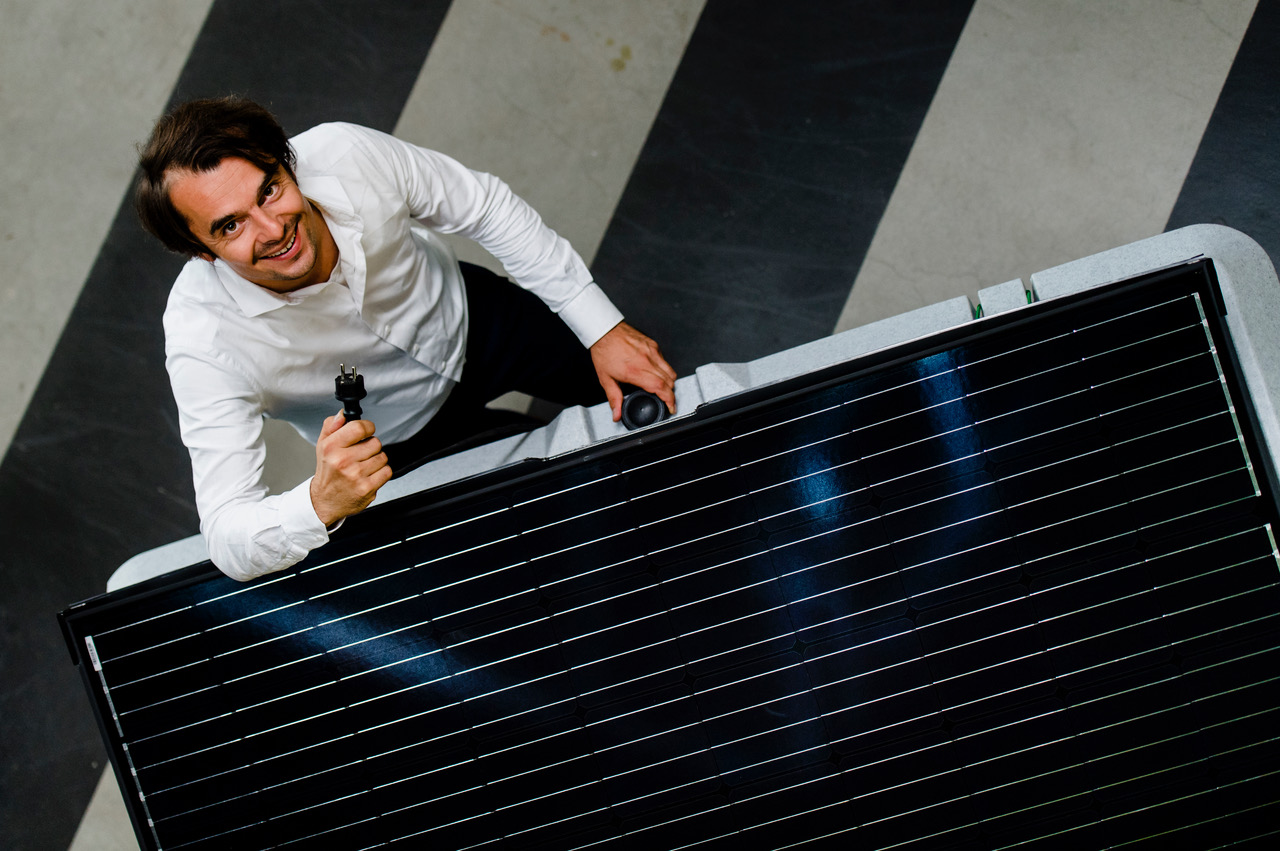 Q: Hello Julius, could you present Supersola in a few words?
After working in the renewable energy field for ten years, including at ENGIE, I observed that the solar energy sector was not growing as fast as it should. Thinking about it, I realised this was because solar panels were not yet a consumer product. They had to be installed and connected by a specialist, secured to a fixed surface for stability, and once installed, were more or less a permanent fixture. Consumer products must be simple. So we designed panels that can be set up in fifteen minutes by anyone – even your mother! - and just need plugging in. The product went on the market in August this year, and we sold 100 units in the first two months, that we are using for testing and improvement. A production run of 5000 units is the next step.
Q: And what is specially innovative about your solar panels?
Firstly, you can plug one into any electrical socket, and it supplies power via the existing circuits. Secondly, it's a modular system. A single unit, costing less than 400€, works immediately, and you can add others as you go on ; if you move, you just take the units with you. Whereas with standard equipment, you spend up to 5000€ for a complete installation, and have to leave it behind. We make the world's first plug-and-play solar panel.
Q: Tell us about your story with ENGIE.
I worked for the Renewables department in the Netherlands and had the opportunity to investigate an offshore wind bid for ENGIE. It was astounding to see how much knowledge ENGIE has worldwide. For every topic there is someone knowledgeable within the organisation. Things are quite different in a startup, and I sometimes still enviously think about how superbly organised working at ENGIE was.
Q: What will you be showing at CES?
We will be displaying the unit iself, so that people can see how simple and portable it is. Unfortunately, there is not likely to be enough sun inside the hall to generate power!
Q: What are you hoping to gain from your presence at CES with ENGIE?
Two things, really: investors, and large resellers worldwide.
Q: What, for you, is the most significant innovation in history?
There are two stories I like to tell.
One is about buying my first computer. I was a kid, and I spent a long time establishing my wish-list : this kind of processor, this much memory, this make of graphics board, etc. Then I went to see a strange guy sporting a ponytail, in his garage, and three weeks later, I went back to collect my computer. Nowadays, I go to a supermarket, and say: "I want a blue one." The innovation was the move from components to an all-inclusive system. It was an inspiration for Supersola.
The other story is about Tom-Tom, the early navigation system. When GPS became miniaturised enough, it was obvious that in a few years, every car would be fitted with it. But at Tom-Tom, they realised that people wanted navigation aids NOW. And they were able to sell their product for ten years. Supersola is in a similar position : In a few years, it will be pointles building a house with a roof other than in solar panels. Meanwhile, people want solar power NOW. The innovation? Seeing that there is an opportunity in every transition.
Q: And finally, is something you would like to add?
Something about the way the energy market is going to change. Currently, most energy systems are quite technical and installer-based, but in the future, I think things will be more and more consumer-controlled and mass-produced. That means a bigger market, and lower prices. Good news for everybody!
Read more about Supersola
Source: Martyn Crossland
---