---
Mini Green Power is reinventing green energy
12/06/2017
Mini Green Power and ENGIE Innovation first met at the second Startup Summit hosted by Challenges magazine in April 2017. A perfect opportunity to invite the innovative startup to come be an exhibitor at ENGIE's Energy Lab at Vivatech in June! Gonzague de Borde, the Var-based startup's development manager, talks about his plans for the future.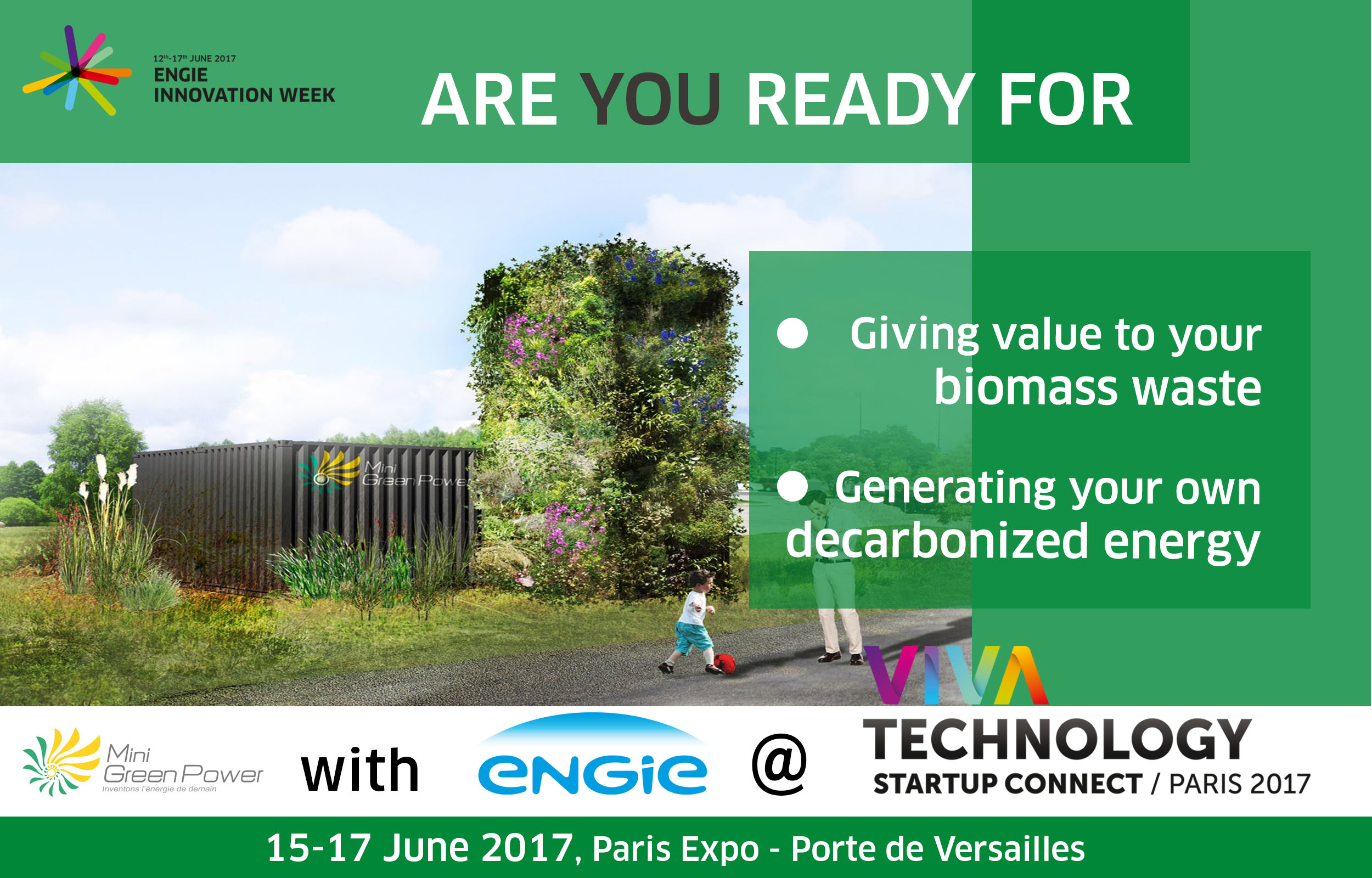 Q - Hello Gonzague, can you give us a short introduction to Mini Green Power?
Mini Green Power was founded in June 2014. We're an innovative company based in Hyères (Var). We design and assemble mini-power plants that convert biomass into energy, which can be used for various applications: heating networks, drying materials, cooling from absorption or electricity production.
Our targets include ENGIE BUs that do business with local communities. Our typical customers have both plant-based waste and energy needs. For example, our product can go alongside gas boilers in heating networks or in agribusiness industries.
We also target isolated communities in developing countries, places where there is a lot of underutilized biomass and where electricity is expensive because it's mostly produced from diesel generators: West Africa, the Pacific, the West Indies, Réunion Island...

Q - How is Mini Green Power Innovative?
Biomass plants currently often use one type of fuel, or else need to have their settings changed if multiple ones can be accomodated. When they do use it, they usually focus on using dry biomass. Mini Green Power's technology allows users to process even very humid biomasses (up to 55% moisture level of moisture) which are currently underused or not used at all.
The other thing that makes us special is that we have a high-performance control system that relies on big data and allows users to continuously learn from their plant's operations. This way, they can quickly find the optimum production levels for the fuel being processed.

The innovation lies in combining these digital and technical aspects. Relying on big data in the control system lets us easily and simply control the technical elements, such as the shape of the gasifier or the management of the air in the chamber, which we sue to process "difficult" biomass. The plant can process different types of biomass automatically, within the same day.
Compared to the vast majority of boilers that deal with wood chips or crushed pallets, which are very dry and very homogeneous fuels, our boiler can consume plant material from pruning, compost or olive pits. This versatility is what's unique about Mini Green Power.

Q- What are you going to show at Vivatech?
While our power stations are small, they're not that small: we'll have to show a model instead. We'll also have a computer showing in real time how we are remotely running our demonstrator installed in Hyères to see how it works.


Q- What do you expect to get from being at Vivatech with ENGIE?
We hope to meet innovators we can potentially work with. We also want to meet some of ENGIE's business units, since it seems to us that what we do really fits with ENGIE's new strategy on decarbonized, decentralized and digitized energy.
We would like to figure out what specific needs that we could address.
Finally, we hope to improve our brand recognition, especially at the international level, because we believe that ¾ of our business will be abroad in the near future. So this is an opportunity to develop our visibility abroad.

Q- The last question is for you, literally: what question would you have liked me to ask you?
"How many BU managers would you like me to introduce to you at Vivatech?"
---