---
ENGIE, ambassador of the energy revolution at European Utility Week 2017!
12/09/2017
For three years, ENGIE has been a partner of European Utility Week, which will take place again this year from October 3rd to 5th in Amsterdam.
European Utility Week is about bringing together all of the stakeholders in the energy sector: startups, experts, operators and suppliers of energy and services.
Over the course of 3 days, 400 speakers, 600 exhibitors and more than 12,000 visitors will learn and share about themes like smart grids, smart buildings, energy storage, etc.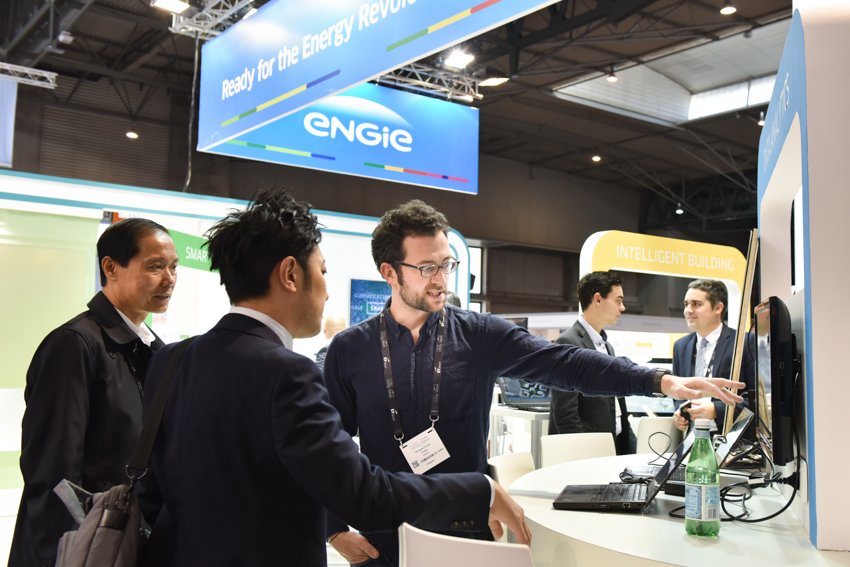 This year, ENGIE will be presenting innovative technologies developed by its operational subsidiaries such as the Darwin project (for running renewable energy-generating equipment) and BIM (building information modeling) solutions.
Several startups will also be front and center at the ENGIE booth:
BioEntech will present its Mapped project, which helps intelligently manage methanization units and was developed with ENGIE through a call for projects.
Heliatek and EV-Box, two other ENGIE partner startups, will respectively be showcasing their organic photovoltaic film technology and their electric vehicle charging solutions.

Last but not least, two other startups who have won our calls for projects will also be on site at ENGIE's booth: Living Map, a London company specializing in real-time digital cartography and DCbrain, a French startup that develops artificial intelligence solutions to improve performance in energy networks.
ENGIE experts will be on-site throughout the three days of Utility Week to talk about energy issues: storage, smart buildings, energy communities and the sector's digital transformation. See the detailed program at the end of this article.

The InnoEnergy Challenge
The "InnoEnergy Game Changing Impact Challenge" that ENGIE is sponsoring this year puts students in teams to think up solutions to energy-related problems.
With the help of professionals acting as coaches, the 4 teams will use design thinking and best practices in innovation to build suitable solutions and present them to the challenge's industry sponsors.
ENGIE has chosen to sponsor the topic of energy storage and electric mobility.
Students will have to design an application (a human-machine interface) that simplifies the process of setting up a Vehicle-to-Grid service for end users.

Three experts from the Group will help participants rise to the challenge:
Etienne Gehain, Energy and Storage Expert - ENGIE Fab
Pierre Moench, EV Mobility Lab Engineer - ENGIE Lab Laborelec
Wijnand Diemer, Senior Product & Project Manager - EV-Box

Conference and speaker program:


October 3rd:
Thierry Lepercq, Deputy Director-General for Research, Technology and Innovation, will take part in the plenary session on "How to democratize energy?
Eric Lamendour, BIM & Digital Solutions Director, Hub Session "Intelligent Buildings Europe": session 43 "Energy in empowered buildings" (16h-16h20)

October 4th
Vincent Schachter, Energy Communities, Hub Session "Storage": session 18 "Building Energy Communities, the Real Promise of Distributed Energy" (10:20 - 10:40)

October 5th

Etienne Gehain, Energy Communities Senior Manager, Hub Session "Digitalization": session 16 "Digital: a growth lever for new energy vectors" (10:00-10: 20)
Georgina Grenon, 100% Renewable Energy Solutions Director, Hub Session Energy Revolution Europe: Session 5 "Making the 100% RE Solutions Happen" (10h20-10h40)
Mark Akehurst, Program Director, Innovation, Marketing and New Business, and Kristof Vereenooghe, CEO of EV-Box, will participate in the closing plenary on mobility and its new uses (afternoon)
---