---
CES 2018 - EVBox: Charging stations for today and tomorrow
18/12/2017
With ENGIE in Las Vegas for CES 2018 will be the Dutch company EVBox, leading manufacturer of electric vehicle charging stations, and part of the ENGIE group since March this year. Job Karstens, their PR & Events Marketing Manager, brought their story up to date.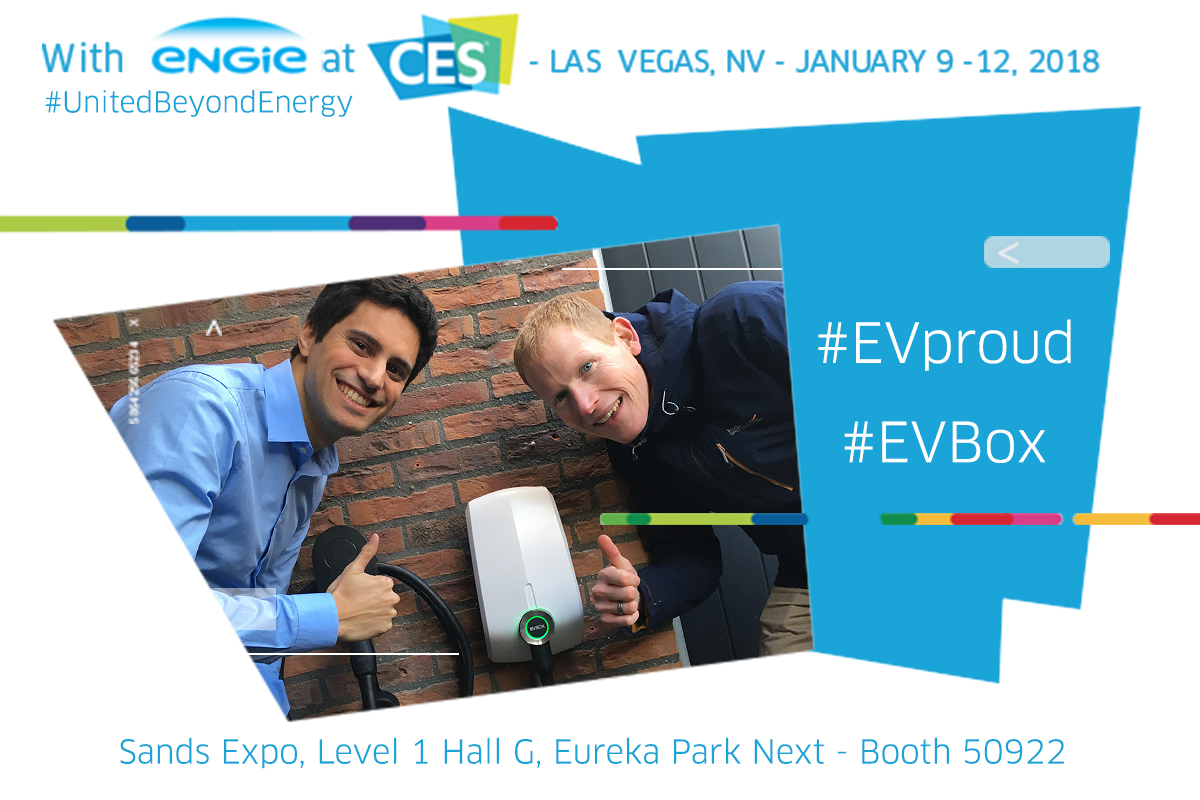 Q: Job, can you update us on events since March?
In September 2017 we reached a milestone of 50,000 charging points, installed in 980 cities and more than 30 countries worldwide: number 50,000 was installed at the Los Angeles Cleantech Incubator (LACI). We achieved the first 50,000 charging points in under seven years, and we plan on achieving another 50,000 sales in the next two years.
Q: And your story with ENGIE over the last year?
ENGIE and EVBox have been collaborating for several years already, especially in the field of urban mobility. Together we have installed more than 2000 charging points in the Rotterdam region alone, and maintain them; one of the most innovative and successful examples of e-mobility in the world.
Ever since EVBox became part of ENGIE we have pulled together to change the way the world looks at mobility. Great examples include our joint presence at European Utility Week in Amsterdam, Autonomy in Paris and Wetex in Dubai. In recent months EVBox has also welcomed two former ENGIE employees to the management team: Géraldine Imbert (CFO) and Peter van Praet (CCO).
Q: Has your product changed over the last year?
What we haven't changed is the quality, reliability and smart technology capabilities for which EVBox charging solutions are known! But we have started the design of a new generation of products, starting with a modular charging station for home charging: Elvi.
Elvi is designed to meet the current and future needs of the electric vehicle, and is appropriate for both the family home and the condominium. Its upgradable power capacity, smart charging technology and revolutionary modular design make it easily scalable, and thus eminently adapted to the ever-growing needs of the electric vehicle market.
Elvi also won a CES Innovation Award, thus honouring the EVBox standard of quality.
Q: What will you be showing at CES?
At the ENGIE booth we will display our charging solution for businesses, while at our own booth there will also be a focus on home charging solutions. We will also be bringing a surprise, but you will have to visit us to find out what it is!
Q: What do you expect from your participation at CES 2018 with ENGIE?
We are looking forward to a great deal of positive reaction, curiosity and excitement from the visitors. Electric vehicles and related products & services are very popular. We are eager to share with the visitors our passion for a greener future, and proud to be present at CES with a great partner such as ENGIE.
Q: What is the most significant innovation for you (of all time) and why?
This is a tough one... either the wheel or the ability to make fire. Let's go with the wheel, because without wheels the transportation industry would not be the same, and even an electric vehicle would have difficulty coming into existence.
If we are referring to an innovation at EVBox, it's also hard to say because there have been a number of them. Probably we're most proud of our first generation of charging stations (BusinessLine) in 2010. At that time there was absolutely no charging infrastructure. EVBox and their partners were the first in the Netherlands to enable drivers of electric vehicles to properly charge their cars. From those humble beginnings, we have grown a great deal.
Read more about EVBox
Source: Martyn Crossland
---