---
Ürbik: street furniture that speaks to your mobile phone
18/04/2018
Ürbik develops connected and energy self-sufficient street furniture that offers information and services. They will be showcasing their work at Viva Technology on May 24th and 25th 2018 at the ENGIE Lab.
Frédéric Bonin, co-founder of Urbik, introduced us this very young company.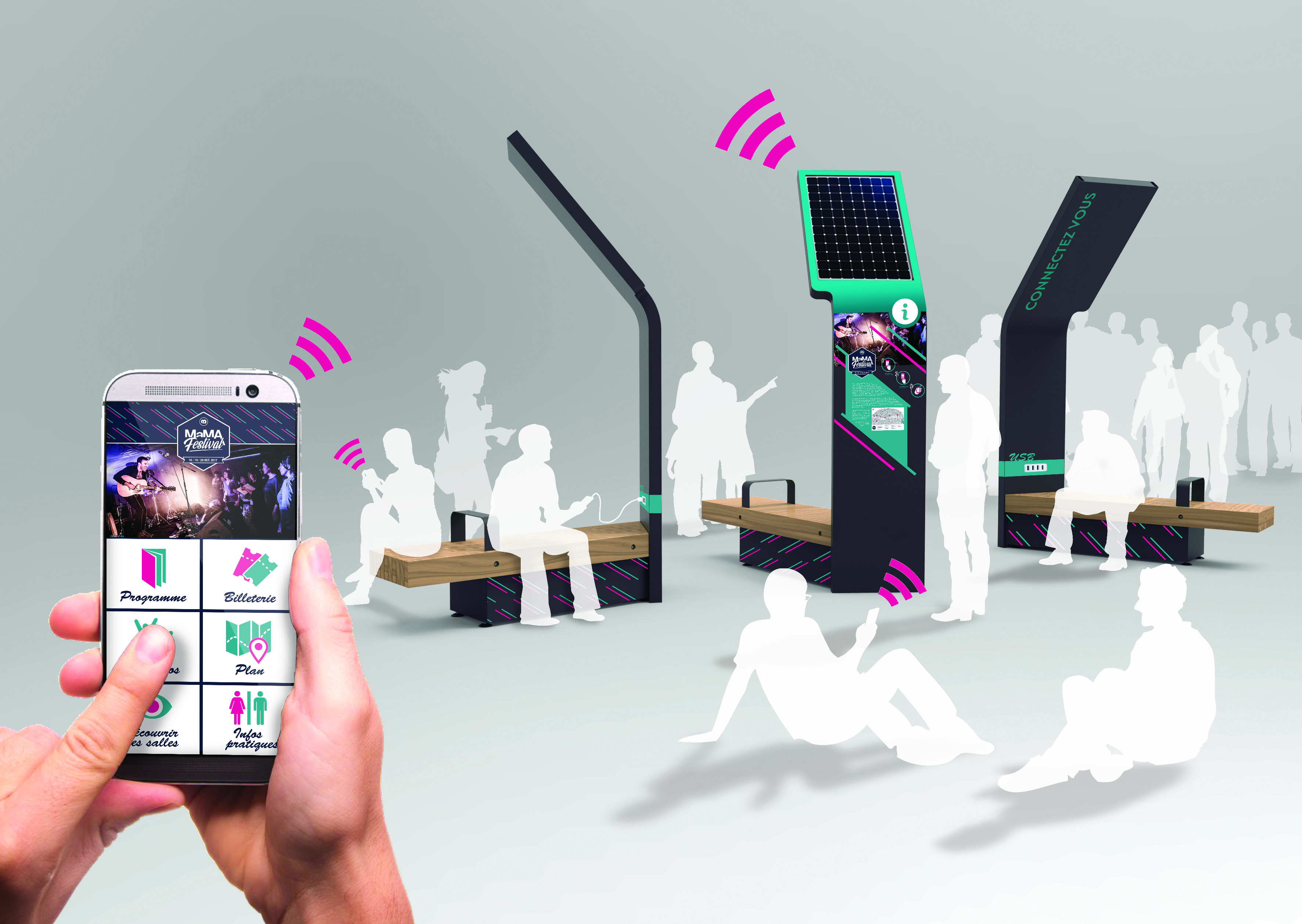 Hello Frederic, what does Ürbik do?
We develop 100% autonomous information and services points. We like to talk about "phygital" solutions because they bring the physical and digital worlds closer together. We incorporate a set of digital services into a physical solution: street furniture. Our solution allows interacts directly with the users' mobile phones without downloading anything and without going through an app. No app, no download, no screen: that's our creed.
What services do you offer?
We have several use cases.
The first is focused on tourism, welcoming visitors into a community. We are aiming to address users who know little or nothing about the places they're in, providing them information about points of interest in the surrounding area, events and transportation.
The second use case that we are starting to roll out involves urban renewal projects. For this, we're addressing the various project stakeholders: residents, local businesses, associations, companies that are doing construction and other site work, homeowners and communities. The goal here is to create a place where these various kinds of stakeholders can exchange information and talk.
For both of these we offer internet access, mobile recharge stations and sensors that collect data for the local authority.

Since our systems are energy independent, we can be very agile as to where we put them and bring the services to the places they need to be, meaning where there are potential users, regardless of the infrastructure that's already in place and with no additional construction. This agility also lets us to offer temporary facilities for events or tourist peak periods.
We should note that this energy independence is provided through solar photovoltaics.
Although you're young, your startup has already installed many devices, right?
Yes, though the company has only official existed since October 2017, we won a project with the City of Paris while were still in the R&D phase for the Euro 2016 Cup to improve the quality of how people were welcomed to the site and the information they received about the city during that time.
We have already set up 11 devices throughout Paris, from the Opera to the Pantheon, Bastille, Republic Square, etc., which we use to provide information about points of interest within a radius of 10-15 minutes' walk. During this time, we've had 20,000 users per month and the facilities, which were planned to last 3 months, remained in place for 18 months. Given the significant use of the equipment, the City has expressed its desire to continue the experiment.

Are your services free for the end user?
Yes, our clients are first and foremost local authorities themselves who use our services while hosting an event or promoting information, just like a (small) tourism office.
And for the user, the service is of course free.

What are you going to be showing at Vivatech?
On the booth we will have a model of our street furniture and a portable device that will push content onto visitors' phones.
We intend to inform visitors about the startups on the Lab and the planned events.

What do you expect to get from being at Vivatech at the ENGIE Lab?
This will be our third time participating in Vivatech, so we know the event well and for us it's the best way to meet decision makers from big organizations.
We hope that the 2018 edition will take us further in our relationship with ENGIE, who we are already in contact with (through ENGIE Ineo) on smart city issues.
ENGIE's target audiences are also our own: communities and public stakeholders. For a startup, it is difficult to identify the multitude of initiatives that a company like ENGIE can lead, and we only have a partial understanding of all that, so for us Vivatech will be an opportunity to make contacts, have meetings with the BUs or other stakeholders at ENGIE, and better understand your expectations, problems and specific needs.

Here we are at the end of this interview. I have to ask: For you the future will be ...?
The future will be bright... if it manages to find the balance between the human, the smart and the sustainable.
And it has to be radiant: we need the sun since our solutions are photovoltaic!
Source: Christine Leroy
---