---
Call for Innovative Solutions for a Medium-Sized Smart City
Territories
26/06/2017
By ENGIE
closure date
12/09/2017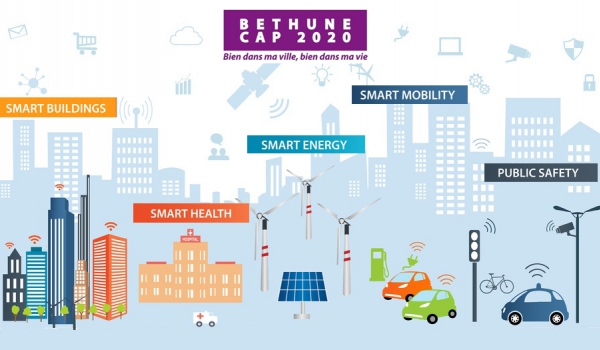 Finalists :
CulturMoov
Smiile
WINTUAL
---
Winners :
Get-IT-done
ICOHUP
TOTEM mobi
---
Béthune wants to set up a smart city project that is adapted to its geographical, cultural and economic characteristics. In doing so, it wants to improve the quality of city services and to put citizens squarely at the center of its development plans by better coordinating its initiatives with its good intentions. With this broad goal in mind, ENGIE – as a partner of the city of Béthune in its plans for people-centric digitization – is launching a call for projects to develop innovative solutions based on new technologies that are aligned with the city's Smart City masterplan
---
The call for Smart City projects that ENGIE is launching is meant to discover new solutions for making Béthune a collaborative, sustainable and innovative city, while also accounting for its specificities as medium-sized municipality.

Proposals could be structured around the seven pillars defined in the city's Smart City Master Plan, namely:


Habitat and environment
- Raising awareness among citizens about environmental causes
- Supporting the energy transition


Eating, drinking and shopping
- Help usher in and accommodate new consumer practices
- Focus on short circuits


Transport and mobility
- Facilitate and consolidate active and alternative modes of transport
- Promote intermodal transport
- Reduce the use of cars in the city


Education and employment
- Promote and help cultivate digital education
- Help develop job training courses
- Promote the emergence of new workplaces

Health and well-being
- Safely sharing data among healthcare providers
- Improve the effectiveness of residents' healthcare journey in the city and surrounding area
- Make city facilities more accessible


Leisure and culture
- Develop new cultural policy practices


Solidarity and community
- Promote links between citizens
- Encourage the social economy and solidarity
Application deadline: Tuesday, September 12th, 2017 at midnight CET
---
Rewards and benefits for selected projects

The selected projects will get:
An opportunity to pitch for up to 900 mayors from the Hauts de France region,
A partnership with ENGIE to develop the Smart City digital project in Béthune and potentially other projects in France and elsewhere based on the specifics of your response,
Guaranteed visibility at special events, in the press and through other partners.
Potential incubation in Bethune within a French Tech incubator for a period of six months
Acceleration with financing provided by the City of Béthune for the following amounts:
1st prize: 5 000 €
2nd prize: 2 000 €
3rd prize: 1,500 €
The selection committee reserves the right to change this financial breakdown based on the responses received (special prize, increase in the number of subjects, etc.)
---
Detailed description
The "Béthune CAP2020: feeling good in the city and in life!" was launched at the beginning of 2015. Olivier Gacquerre, Mayor of Béthune, has several specific important goals including making Béthune an attractive, smart and connected city.
Today, the municipality is taking the next step and wants to set up a smart city project crafted to fit its geographical, cultural and economic specificities in a way that optimizes the quality of the services it offers. Béthune wants a project that builds on the foundations laid by the pioneers of the smart city, but which takes the advantages and constraints of a medium-sized city into consideration, as well as how it is connected with the surrounding area.
The city of Béthune is aware that major societal changes will take place through a new ecosystem based (in summary) on:

New information and communication technologies,
The energy transition,
A focus on citizens, who must be empowered and given responsibilities,
New forms of governance and de-compartmentalized relationships between the various stakeholders: in short, the era of cooperation!
The city is taking this opportunity to reorient its model for development, and more specifically the "Béthune Cap 2020: feeling good in the city and in life!" plan, to meet these new citizen-centric expectations

The digitization of society has shifted the rules for how we live: our economic models, our lifestyles and our habits. We urgently need to conceive of new ways of living together that avoid individualism or withdrawal into oneself.
The city is above all a place to be lived, where paths cross and where new perspectives are opened. This reality concerns a wide range of fields: harmonizing and sharing ways of using property, transportation, energy and citizen participation to local democracy. Such changes to our model of society are marked on the one hand by the development of digital technologies in many areas, which is forcing consumers/users to adapt to make the best of new tools; and, on the other hand, the rise of the collaborative economy, which is changing how consumers relate to suppliers. Individuals are themselves becoming the providers of new services, which are constantly shifting to accommodate their needs. We are witnessing the end of the "all-market" model. Such changes, along with significant urbanization and the need to enter a post-carbon era, are leading cities to rethink the city of tomorrow. They are using data to build public policies that meet the realistic needs of their citizens the best way possible.
In Béthune, the challenges of this revolution have been identified using technical innovations, but not only. So, like the Confraternity of Charities – which has been carrying the flame of the Béthune humanist tradition for more than 800 years – "the ingenious city" wants to put people at the heart of how it thinks about new urban policies, by making citizens empowered stakeholders in the city and improving their living conditions. To do so, we need to leave ultra-consumerism behind and prefer a collective, holistic approach that responds to new economic opportunities. We must stop focusing on cost cutting as a "way of adapting" to successive crises of finance, economics and confidence. It's also important to ensure that the energy transition becomes a reality by shifting to an era of shared renewable energy use.

Eligibility and selection criteria

Applications will be evaluated on several criteria, to be confirmed by the Selection Committee. Responses may be related to one or more specific topics referred to in the description. ENGIE and its partners have the right to nominate several winners.


Appropriateness for the subject
Originality of the project / innovative nature (new technologies/approaches/processes)
Level of maturity and experience (both emerging projects and mature ones will be considered)
Feasibility
Ability to be tested and/or deployed quickly
Technological suitability/usage
Societal, environmental and energy performance
Social and societal acceptability
Selection procedure

Projects will be chosen in 2 phases:

Phase 1. Initial shortlist of five projects to be established based on applications
Phase 2. Each project leader for shortlisted applications will be invited to give a 3-minute pitch for the selection committee. The pitches will be followed by a Q&A exchange with the committee members, for a total of 10 minutes maximum per candidate.
Provisional dates
Launch of the call for projects during the High Digital Forum of Roubaix on June 26.
September 12th: application deadline.
September 20th: Phase 1 / applications will be evaluated by the Selection Committee and shortlisted
September 22-23: Phase 2 / pitch from shortlisted projects for the Selection Committee, final decision and announcement of the winners during Smart City Béthune.
Starting in October: winners will begin working with the City of Béthune and ENGIE.
The selection committee

Winning projects will be selected by a committee composed of representatives of the City, the urban area, ENGIE and its subsidiaries, and local and national economic stakeholders.

ENGIE Ineo,
ENGIE,
City of Béthune (Mayor and Director of Services),
Agglomeration of Béthune-Bruay, Artois-Lys Romane,
Regional Council of Hauts de France
Artois Valley
---
Out of the 67 files sumitted, 6 finalists have been selected:
Totem Mobi: car-sharing service
IcoHup: Sensor Infrastructure in the City
Get It Done: Energy storage using the Béthune water station to supply 800 homes with renewable energy
Smiile: Neighborhood Social Network
CulturMoov: Virtual tour of the city for a cultural discovery
ECHY: Capturing sunlight to light the interior of buildings

At the end of the pitches that took place in Béthune on 22 September 2017, the jury chose 3 winners:
Get it Done: 1st prize and prize of the public which benefits from the offer of incubation on the territory for one year and the budget envelope allocated by the city for this contest, ie 8 000 €
Totem Mobi: 2nd prize for the development of a shared electric mobility solution on the heart of the city
IcoHup: 3rd prize for its offer around the major risks in the territory around the Communal Safeguard Plan (PCS), particularly in the context of flood risk.