---
Innovative solutions for energy storage
Energy Communities
12/10/2015
By ENGIE
closure date
15/02/2016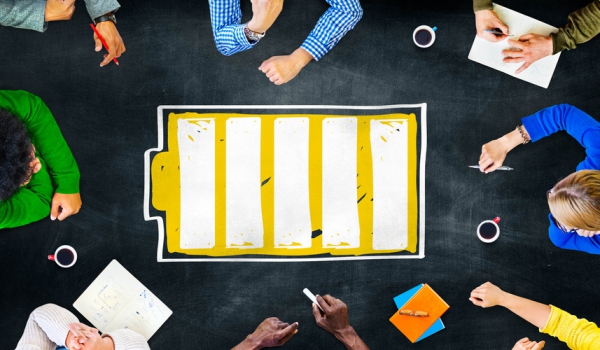 To identify energy storage solutions that can be integrated into local development projects such as new business and industrial parks, neighborhood renovation, and green energy and green mobility development.
---
Subject of the call for projects
Identification of innovative solutions for storing energy in line with the energy transition. The proposed solutions can be technological, digital, organizational, financial but also commercial or business models.
---
Deadline for submitting applications
February 15th, 2016
---
Who is this call for projects for?

Start-ups, innovative young enterprises and medium sized business
Rewards and benefits for selected projects
Selected projects will:
Get special support from ENGIE and/or the call for project partners in promoting the development of business partnerships and operational projects
Have a testing ground at their disposal for experimenting with and developing full-scale demonstrations of their project in the Aquitaine region as part of initiatives in which the ENGIE Group and the partners of the call for projects are involved. The first test zone will be the Ecoparc ZIRI (Zone for integrating smart networks) in Blanquefort.
Take advantage of support services from the Aquitaine Regional Council and ADI as part of their local responsibilities
Be highlighted in national and international communications from the ENGIE group
May be integrated into a local energy storage project.
Detailed description
ENGIE, in partnership with the Aquitaine-Limousin-Poitou Charentes Regional Council and the Aquitaine Development and Innovation Agency, is launching a call for projects to identify innovative energy storage solutions that can be integrated into local development projects such as the Ecoparc ZIRI. The projects will involve providing energy to industrial, tertiary and logistical sites as well as the development of renewable energies or green mobility.

Also, the test project could be replicated in other areas of the new region..
The Energy Transition Law for Green Growth and the Multi-year Energy Program (PPE) will give new importance to the diverse sectors of the energy storage field, whether in electricity, gas, heat or hydrogen... Indeed, storage is an important element in developing flexibility and smart management within energy systems.
Integrating a storage solution can lead to various benefits, leading to:
Improved management of the electricity grid
Better control of energy demand,
Reductions in the overall cost of the project as a result of including direct and indirect costs,
Improving the overall economic viability of a project,
Increasing the share of green energy in a project,
Facilitating the development of green energy or green mobility.
The solutions that we are looking for will be innovative in the broad sense of the term, and may involve innovation one or more of the following guises: new storage technologies, digital, organizational, financial, commercial and business models.
If they are primarily technological in nature, they will have to be sufficiently mature to be easily testable.
Eligibility and selection criteria
Relevance to the subject
Originality/innovative character of the project
Consistency of the proposed business model
Feasibility and economic viability/cost-benefit model and interest for the customer
Potential for development and replicability
Other
Selection process
Projects will be selected in two stages:
Phase 1: an initial selection based on applications will lead to a shortlist
Phase 2: each shortlisted project leader will be invited to present her/his project for 15 minutes to members of the selection committee between March 24th and March 31st, 2016.
After these presentations, the committee will select the winning project no later than Q1 2016.
Provisional timetable
October 13th 2015 : launch of the call for projects.
February 15th 2016: deadline for submissions.
March 9th to March 16th: application assessments and project selection
March 24th to March 31st: pitch from shortlisted startups for the Selection Committee, final selection and announcement of winner(s).
2nd trimester 2016: announcement of winners
Selection committee and partners in the call for projects
ENGIE Group: Aquitaine Regional Delegation, ENGIE - ENGIE Cofely - ENGIE Ineo.
Aquitaine Limousin Poitou-Charentes Regional Council
Aquitaine Innovation Development Agency
Partners in the call for projects:
ENGIE develops its businesses around a model based on responsible growth to take up the challenges of the energy transition towards a low-carbon economy. The Group helps these changes take place by placing innovation at the heart of its customer strategy. www.engie.com
Aquitaine Innovation Development (ADI) aims to encourage and lead innovation among Aquitaine businesses. In line with the Aquitaine Regional Council's economic development policies, its work involves supporting companies both directly (assisting innovative businesses and SMEs/ SMIs/ETIs/startups, whether individually or collectively) and indirectly (by helping to organize and connect the regional innovation ecosystem and by helping to define territorial development strategies). ADI is very involved in energy-related topics and hosts two regional clusters specifically for new energy. ADI consists of a team of 50 experts (engineers, doctors, industry specialists, lawyers, marketers). www.aquitaine-developpement-innovation.com
The Aquitaine Limousin Poitou-Charentes Region consists of a regional council (deliberative assembly of 85 elected officials), and the Regional Economic Social and Environmental Council (CESER), a consultative assembly composed of civil society members. Its work involves economic development and employment (helping businesses, innovation, R&D, etc.); sustainable land-use planning; high school education and pre-professional training; continued education (access to sustainable employment for all); regional public transit (TER trains and coaches); international partnerships; sustainable health; renewable energy; and sports. It has an ambitious policy for the region that involves structuring different sectors, supporting economic actors and developing cross-cutting priorities (modernizing production facilities, promoting international development of business and innovation). www.aquitaine.fr
---