Open Call - Europe's First "Greenathon": Hacking the European Green Deal
Call for project closed the 28 Sep. 2020
north_east Share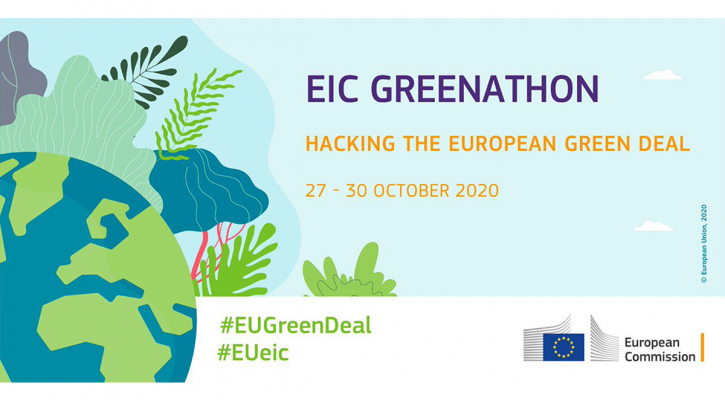 Subject of the call for project
Is your company or research activity contributing to a more sustainable future in the fields of energy, construction & renovation or food & agriculture? Do you want to team up with peers and corporates to co-create, innovate and learn in an intensive 4 days event? Then you've come to the right place! Join us in hacking the European Green Deal and contribute to a greener Europe for all ! 
Co-create the future with other like-minded innovators 
Climate change and environmental degradation are an existential threat to Europe and the world. To overcome these challenges, Europe needs a new growth strategy that transforms the Union into a modern, resource-efficient and competitive economy. The European Green Deal is the European Commission's roadmap to fulfil this transformation and innovative and eco-friendly SMEs are crucial to make a successful green transition in Europe.  
The EIC Greenathon will take advantage of this momentum, bringing together innovative EIC beneficiaries and business partners to solve tangible challenges and construct new collaborations for sustainability and business growth.  
The challenges proposed are genuine, complex problems linked to sustainable transformation on energy, construction and food & agriculture. All of them will require fresh thinking and a new approach based on novel technologies and models.
Earnings and benefits
Who can apply?  The event is open to all EIC beneficiaries, both EIC Accelerator and EIC Pathfinder. If you're interested in these topics, take a chance, apply and compete for one of several prizes offered by our business partners. 
Description of the call for projects
How the EIC Greenathon will work
The EIC Greenathon will be a fully virtual event, taking place over four mornings from Tuesday, 27 October to Friday 30 October 2020, 9.00 to 13:00 CET. The event will start with an introduction by the European Innovation Council, providing an insight into the new opportunities created by the European Green Deal. Following the in-depth challenge briefings, participants will work together in teams. They will identify collaborative solutions that will leverage the combined creativity and resources of enterprises, SMEs and researchers. The Greenathon will close with a round of pitches in front of a jury and the final prize ceremony.


What's in it for you 
Further knowledge on innovative technologies that will help Europe reach its European Green Deal goals.
Networking opportunities with like-minded innovators and representatives from big European players.
Personalised online training on pitching technics before the event.
Privileged access to large corporates.
Besides this, the winning teams of each challenge will: 
Meet with Corporate's senior staff for in-depth feedback, networking and pitching. 
Explore potential Proof-of-Concepts (POC) opportunities.
Strength possible collaborations with business partners on the longer-term.
The Challenges 
The challenges proposed by the EIC business partners require specific expertise. However, the EIC beneficiaries will apply to the overall event, not only to a particular challenge. After the introduction session, on 27 October 2020, the attendees will have the chance to participate in ideation workshops to have a more detailed idea on which challenges they would like to work on in teams. After that, participants will be able to register for the challenge they are most interested in/suitable for. 
The Greenathon will gather sustainability challenges from several European players. Please find below the ones from Saint-Gobain and HenkelX Ventures and keep your eyes on the EIC Community to discover more! 

Saint-Gobain is concretely looking for innovative solutions in the areas of:
Energy performance of industrial furnaces :
Develop high temperature and heat flux monitoring (>1,000 C) solution including IoT sensors, and data analysis to be combined with Saint-Gobain refractories to monitor and optimize the thermal performance of industrial furnaces such as glass furnaces and calcination kilns in order to reduce energy consumption.
End of life management of ceramic-based industrial furnaces:
Create automated and optimized systems for end of life recovery of ceramic parts from industrial furnaces or toolings.
HenkelX Ventures prepared two distinct challenges that aim at different target participants:
Build a sustainability certification algorithm that serves as the backbone of a sustainable marketplace.
Biotech for Sustainable Packaging
Find the sweet spot for an innovative packaging concept that builds on the concept of zero waste.

 EIC Business Acceleration Services
This opportunity is brought to you by the EIC pilot Business Acceleration Services. To explore other opportunities to connect with the largest corporates in Europe, keep an eye on our events page. Should you have any questions regarding the event, please refer to our helpdesk: https://community-smei.easme-web.eu/contact (please choose "EIC Greenathon" as the subject).